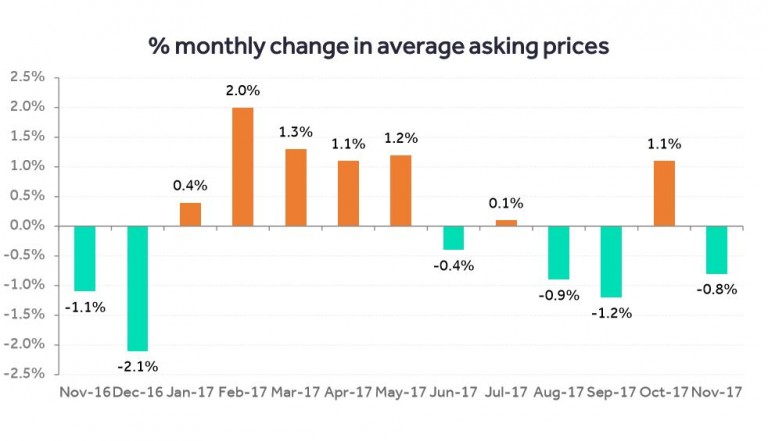 Rightmove announces a 5 year high in the number of price cuts by existing sellers
rrr
Rightmove has released its latest property trends report this week. The report shows that both new-to-market and existing sellers have launched what appears to be an Autumn Sale to tempt buyers at this quieter time of year and in more testing market conditions. More than one in three available properties (37%) currently on Rightmove are now asking a lower price than when they first came to market, which is the highest proportion at this time of year for five years.
Miles Shipside, Rightmove director and housing market analyst comments: "In the run-up to the festive season many sellers are trying to tempt distracted buyers to look at their property by dangling the bauble of more attractive pricing given the quieter time of year and more challenging market. Many sellers who have been on the market for a while are curbing their initial pricing optimism and are hoping that reducing their property price will result in buyers selecting it as this year's must-have Christmas gift. The effect is an impromptu Autumn Sale with the largest proportion of sellers on the market having reduced their initial asking prices at this time of year since 2012."
A drop in new seller asking prices is the norm at this time of year in the run-up to Christmas, and the 0.8% fall (-£2,392) is the smallest that Rightmove has recorded in November since 2007, in the early period of the credit crunch. However, with the largest proportion since 2012 of existing sellers at this time of year who have reduced their initial asking prices, it seems that many of this month's new sellers are being too optimistic by not discounting by a greater factor than 0.8%. For those who have had to reduce their asking price at least once, the average size of reduction between first marketing price and current asking price is 6.3%. Analysis of those properties that actually sold last month after having reduced their prices shows that their average reduction between initial and last advertised asking price was also 6.3%. For these sellers, their price reductions tempted buyers to make an offer, and a sale has now been agreed.
rrr
Mr Shipside advises: "Given that the market has been price-sensitive for a while and a five-year high proportion of sellers are slashing their prices, some sellers and their agents are over-pricing. These sellers may well be asking themselves if they could have saved some time and stress by pricing a lot more conservatively than an average of more than six percent ahead of what the market subsequently proved it could sustain. Rightmove analysis of over 100,000 properties that successfully sold shows that those that sell typically generate over 40% more online interest in the first three weeks than those that do not sell. The danger of going too high at the outset is that you jeopardise that vital initial three-week period, and may have to start on a series of price reductions while potential buyers watch and assume that no-one is buying your property because something is wrong with it other than the price. An average reduction of over six percent means that some properties will be considerably more over-priced than that, and such a big margin of error in the initial price of many properties that come to market can leave them stale and unsold."
Those who are struggling to sell may hope that the Chancellor lends a helping hand in the forthcoming Budget and gives the market a boost by reducing Stamp Duty or at least declaring a Stamp Duty holiday for first-time buyers. However, with buyers' finances already increasingly stretched by rising property prices in recent years, they now have to contend with the reality rather than speculation of rising base rates, up for the first time in over a decade.
Mr Shipside adds: "While there are still some very cheap fixed-rate mortgage deals available to protect buyers from rising mortgage rates, it has been trailed that this is only the beginning of a series of base rate rises. However, with guidance that the upper limit for now may well be around one percent, buyers who are disappointed that rates are on the up after a ten-year break should note they are still historically very cheap. Sensible pricing by more sellers, bearing in mind the stretched buyer affordability, could help buyers' mood. This could also help to increase longer-term market activity more than just a short-term Stamp Duty holiday, which whilst it would initially make the cost of moving cheaper could also result in fewer price reductions and higher property prices. There's no doubting that both measures together would be welcomed by buyers, although it remains to be seen if sellers chopping their prices this autumn is the only potential Christmas gift for cash-strapped home-buyers."
Full report and article can be read at: http://www.rightmove.co.uk/news/house-price-index/
Opinion and tips from Bond Residential
Graham Hughes, Co-Founder & Director of Bond Residential said:
"In our experience when competition from sellers is fierce and there are signs of a downturn in the property market it is crucial that homeowners react quickly. We find that some homeowners have a price in mind and find it difficult to accept that prices may be dropping and amend the price of their home in small increments. By adopting this method all you succeed in doing is following the market down and making your property appear unwanted."
He continued "Too many homeowners believe a price reduction of £5-10,000 is sufficient. The reality is that if you really want to make a difference then you need to appeal to a whole new audience of potential homebuyers. This in reality means the price reduction should be at least 5% of the current asking price. By adopting this approach, you will drive substantial interest in the property and ironically, this can sometimes result in you achieving the price you originally wanted anyway."
rrr
---

Book a Valuation
Or call us today on 01245 500599